A wealthy industrial family from Milan built Villa Venere di Como in 1911 in Argegno, picturesque holiday resort on the west shore of Como lake. Sunny, elevated position, with stunning view of the lake. Due to its beautiful location, from the villa one can see from the headland of Bellagio to the north pre-Alps and as far as Nesso to the south. Just in front of the villa there is the classic S. Sisinnio church. A very romantic spot available for catholic weddings or ceremonies. S. Sisinnio church has been represented in a Winston Churchill watercolour, who painted it from the garden of Villa Venere di Como.
The house and garden has been fully restored in 2012, preserving all the ancient details and materials. Marble and terracotta floors, doors, ironworks, decoration are original of '911. Antique furniture, paintings, statues create a very exclusive atmosphere. A Roman origin pedestrian road leads from the villa to Argegno and the lake, covering in a 800 mtrs path, the height difference of 80 mtrs. Argegno ( 280 mts above sea level) is situated in a large, sunny inlet on the western shore of lake Como, between Laglio, where George Clooney house is located, and Tremezzo, favourite place many Vips. Argegno is one of the most favorite destination for tourists on Lake Como. It has a pleasant climate and it is mild even in the winter months. It is certainly of Roman origin and the stone bridge on Telo stream proves it. The ancient centre of the village is very picturesque. A good number of restaurants, bar, coffee shop, pubs, attract tourists from all the western shore of the lake. Hydrofoil and tourist boat connect Argegno to Como and main interest point. From Argegno is possible to take a cable car up to Pigra and Argegno-Cima della Duaria conservation area (881 mts), which is situated on a plateau that enjoys beautiful views of the lake and of the pre-Alps. Como is at 15 minutes drive, Lugano at 30', Milan at 60'. Sleeps 11 adult plus 2 infants
Basement level: Wine canteen, storage.
Ground level: Entrance; Powder room; Large drawing room with sofas accommodating up to 15 people with fireplace; About 650 sq. ft dining room with grill and fireplace; About 500 sq. ft fully equipped kitchen with fireplace and wood-burning pizza oven. One double bedroom (King size bed 6,56 X 6,56 ft), accessible to elderly people or wheel chair with en-suite bathroom and private small terrace.
First level: Two twin (2,95 X 6,56 ft) beds bedrooms (convertible in double), each with en-suite bathroom and private small terrace; One double bedroom (King size 6,56 X 6,56 ft), with en-suite bathroom and private small terrace; One double bedroom (Queen size 5,91 X 6,56 ft), with en-suite bathroom and private small terrace.
Attic (sloping ceiling): One single bedroom (3,61 X 6,23 ft) with en-suite bathroom. Not accessible storage
Garden. Villa Venere di Como sits in an about 3.500 sq. m. fenced garden with lawn, plants, flowers and trees, maintained in mint condition, with beautiful lounges, tables, BBQ and outdoor furnishings, a salt water heated swimming pool, shower, 70 sq.m. patio, sculpture garden and beautiful garden surroundings.
Included in the rental fee: ADSL Wi-Fi, house heating, Electricity, Water, Heating, Air conditioning, Pool cleaning, landscaping; Bed linen change twice a week; Household linen and bath towels change daily; Maid service four hours a day (7/7) and final clearing; House management; Pre-arrival grocery shopping service; Arrival and departure greeting; Complimentary toiletries; Cradles and highchairs.
Other services on demand: extra housekeeping service, laundry and ironing; babysitter; pool heating (minimum 3 days); breakfast and cook service (please enquire).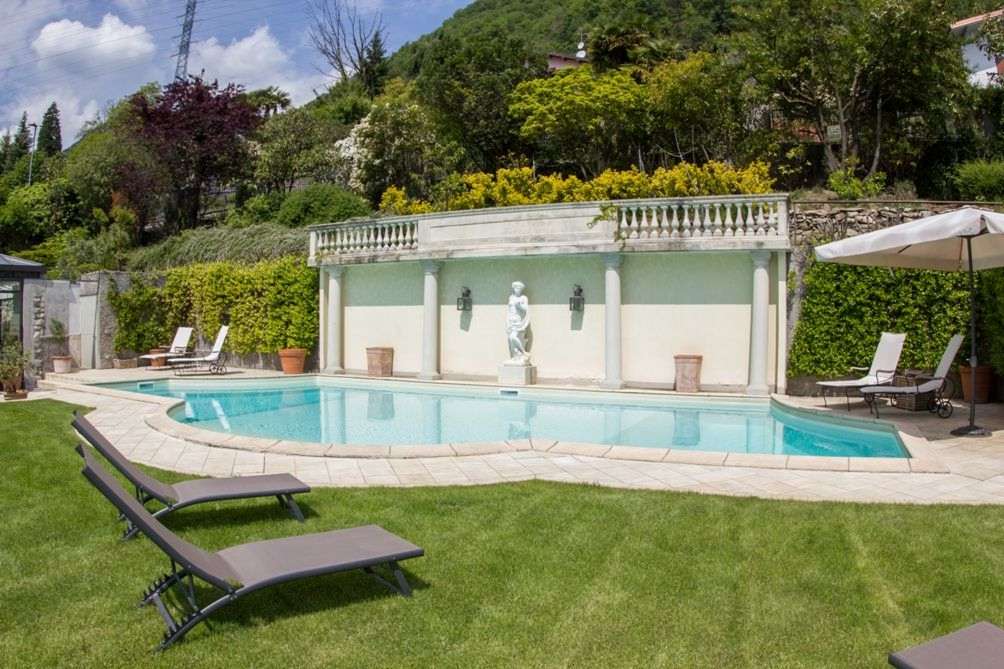 Sleeps: 10 Bedrooms: 5 Bathrooms: 0